I live in Florida and was affected by Hurricane Irma which hit on the night of September 10, 2017. In fact, the actual path of the eye was around 15 miles east of my city.
Despite that, my home luckily had minimal damage, and I have electricity and internet. Much of the state didn't fare as well, unfortunately. It's been quite sad to see the widespread devastation, and in driving around, how widespread the damage was!
I thought I'd do a blog post on this topic because I learned-about and used some great technology leading up to, during, and after the hurricane passed. This went from nothing, to the hurricane hitting, inside of 5 days. So, it's best to have some of this information already figured out – before you need it!
Here are some key things that helped:
Getting Storm information:
Luckily, this was a relatively easy thing to do. Every local TV station has coverage and interactive maps on their website, and each station has their own app now too. Sure, you could turn on the TV and get the latest, but having the apps on your phone is pretty convenient.
Next, most municipalities have a couple of good resources:
Local sheriff's department or police department
County or state "Office of Emergency Management" (OEM) or "Emergency Operations Center" (EOC)
I found that these two regularly communicated things via twitter, Facebook, and their website – in addition to going out on TV every 6 hours or so. If you wanted the very latest, technology has enabled them to communicate quite effectively with the population! At least for around here, these were great resources.
The NOAA website www.noaa.gov was useful because every 6 hours (11 and 5 o'clock) they would update the storm track and give their latest estimates. So, if you didn't want to wait for the local TV stations to process and interpret the data, you could get it yourself.
With a hurricane, there are a few aspects of things to care about:
Flooding – due to excessive rain or from storm surge.
Storm surge – could be 4 to 19+ feet of extra high water, can also back-up the exit point of rivers, causing those rivers to flood.This can multiply the impact and destruction of flooding.
Wind – See the chart above. Even a category 1 is going to do some damage, like: knocking over fences, blowing a trampoline down the street, etc. If you are not in a modern house, there is the danger of the house succumbing to the force of the wind, too!
88% of the people that die in a hurricane, die because of water (drowning, electrocution, trauma from things in the water, etc).
In Florida, after Hurricane Andrew, the building codes were increased so that a modern home should be able to sustain a mid category 3 storm, which is around 120mph winds.
When monitoring a hurricane, the key thing is seeing where the "eye wall" is, because that greatly defines how bad it will be for you, personally. For example, the front-right side (the "dirty side") will have many, many tornados, and the bottom-left will bring in more storm surge on the tail-end. And if you are unfortunate to get a direct-hit with the eye wall, you will see those wind speeds above, at your property!
In this particular case, the forecasting was a utter incompetence, which made it very difficult to know how bad anyone was going to get hit! More on that, below…
Finding Gas:
Before the storm – everyone is gassing up their cars, filling up extra jugs for generators, etc. So, the need for gas within the few days before skyrocketed. So, overnight, all of the local gas stations ran out of gas. As it seemed that the hurricane was going to be much worse, many people needed gas so that they could leave the state! Normally, Florida is about 8 hours "tall", in that if you were down at the bottom, it's about an 8-hour drive to get up into the continental United States. So especially in the south, people needed multiple tanks of gas just to get up and out of the state!
Finding gas was very difficult, and lines were long if you did find an open gas station.
After the storm – many gas stations don't have power. Meanwhile, you have many people who are trying to come back to their homes. This means that gas from they came FROM, is running low – then once they get back to Florida, they need to fill-up again. So, there is a huge need for gasoline. However, back home, with many gas stations out of power, and the ones that do have power, quickly run of out gas.
Again, after the storm, getting gas still becomes a huge problem. How do you solve it? Do you use the remaining gas in your tank to drive around to all of the gas stations?!
An absolutely essential tool has been GasBuddy:
You can get details about gas stations from the web: http://tracker.gasbuddy.com/?q=Tampa%2C%20FL or from a mobile app. It shows you not-only the current price, but if the gas station is open, and if they have gas. When only a few gas stations are open in your town, this is a life (and gas saver)!!
Given that gas was such an essential problem, this was one of the most valuable tools I found.
GasBuddy Available: iOS | Android
Avoiding Traffic / Closed Roads:
Local Area:
As mentioned, check twitter and facebook for you local sheriff's department or police department, and also the county or state "Office of Emergency Management" OEM or "Emergency Operations Center" EOC. For my area, they were excellent at communicating out all sorts of useful information including road closures, rivers that were flooding, closed roads, etc.
I found that these two regularly communicated things via twitter, facebook, and their website – in addition to going out on TV every 6 hours or so. If you wanted the very latest, technology has enabled them to communicate quite effectively with the population!
Remote:
Again, given that this storm was hundreds of miles across, you are looking at a very long car ride to get out of harm's way, if you are driving. I went about 7 hours out of the path, and they still had significant impacts from the storm.
if you have to travel such a distance, how do you avoid getting stuck? Also consider that gas is limited. Imagine running out of gas while you are waiting in grid-locked traffic on a highway in the middle of nowhere?
Finding roads that are clear and not congested, is key. In this case, Google Maps was my tool of choice:
You bring up a location, and click the "hamburger" menu in the top-left:
that brings up this slide-out, select "Traffic":
and then, it shows you real-time information:
You can of course, zoom in and it has traffic for many state and county roads too – including road closures. The screenshots above are on a computer, but it works the same on a phone.
Google Maps Available: iOS | Android
What about Waze?
Well, from what I've read (but not from formal sources), Waze works like GasBuddy – it relies on the community to update information. Google Maps, as I understand it from it's partnership with Android Auto, INCLUDES the Waze data, in addition to governmental sources for things like road closures and detours. So, although Waze is a good alternative, it seems that Google Maps is the more complete answer.
What if you are in a truck / RV?
Another interesting app I ran across (I learned from Zello) is called Trucker Path
This app shows the following, overlaid on a map:
Truck stops
Rest areas
Weigh stations
Truck/trailer (or RV) parking
Gas stations with diesel fuel
TruckerPath Available: iOS | Android
Communication:
A few things come to mind for me, here. First, cellular calls and texting are key, obviously. I guess more cell towers now have backup generators because I didn't run across a single place from Charleston, SC to Tampa, FL where I didn't have full cellular signal. So even in places where most of the population was without power, there was still good cell signal.
In addition to this though, there is a new app that I heard about, called Zello:
This is basically a walkie-talkie app. I heard about it because it was very popular during Hurricane Harvey in the previous weeks, the hurricane that hit Houston, TX. In fact, the the reason I downloaded it was because a saw a bunch of stuff on social media like this:
and I thought: "Hmm, that's not how cell phones work!" – so I was curious. And yes, that claim is totally not true. You DEFINITELY need an internet connection – but as described above, this was not a problem – like the past.
Why is this a good app, then? Well, for person-to-person communication, it captures each key-down response as a sound file. This means if I talk while you are talking, you will hear my message in full as soon as you take your finger off, and I'll hear yours, once I'm done talking. Even better, it keeps a "history" of these sound bites, with a time stamp. So, if you stepped away, you can go back and play a message you missed. Or, replay a message from earlier.
So, this is a much more versatile version of just opening a phone call with someone and leaving it on speakerphone. Zello uses the more reliable cellular (or WiFi) data, versus cellular voice (in these sorts of scenarios), and it uses much less battery because it just runs in the background without leaving your speakerphone on!
Now, you can also create or find "channels" either for your storm, and/or for your city. This is where people within an organization, city, group can communicate. This is the same concept, except you can have several people all in the same "channel". And yes, you can create a channel and password protect it.
If you are coordinating with another person or group, this is a really, really well-done app that is a much better option than just conference-calling a bunch of people on speakerphone!
Zello available: iOS | Android
Ham Radio:
If you are a Ham Radio operator, you also might way to look for RepeaterBook:
This shows you a list of repeaters near your location, with all of the details about each. This is particularly useful if you will be bugging out to a secondary location, and you may not know the ham setup, there.
RepeaterBook Available: iOS | Android
Hurricane Forecasting:
This, I thought I would just mention – in a computer context. This forecasting was literally laughable:
They couldn't even narrow it down to 1,500 miles, where this storm was going to go. Within a DAY, they still couldn't say with 200 miles where they eye was going to be – which is critical. 200 miles for the hurricane path is the difference between your house being leveled, and you just have a few branches on your front lawn.
It seems that meteorology used to be pretty good at running these forecasting models. This time around though, it was complete garbage. On Thursday, it for-sure was going to hit off the east coast of the state. This means for me on the Gulf coast, I'd get some stiff winds, and some rain. By Saturday morning, it was going to be a direct hit over my house at 120-130mph! Then, by the time it hit Sunday night, it seems that we probably got around 80-100mph winds, I would guess.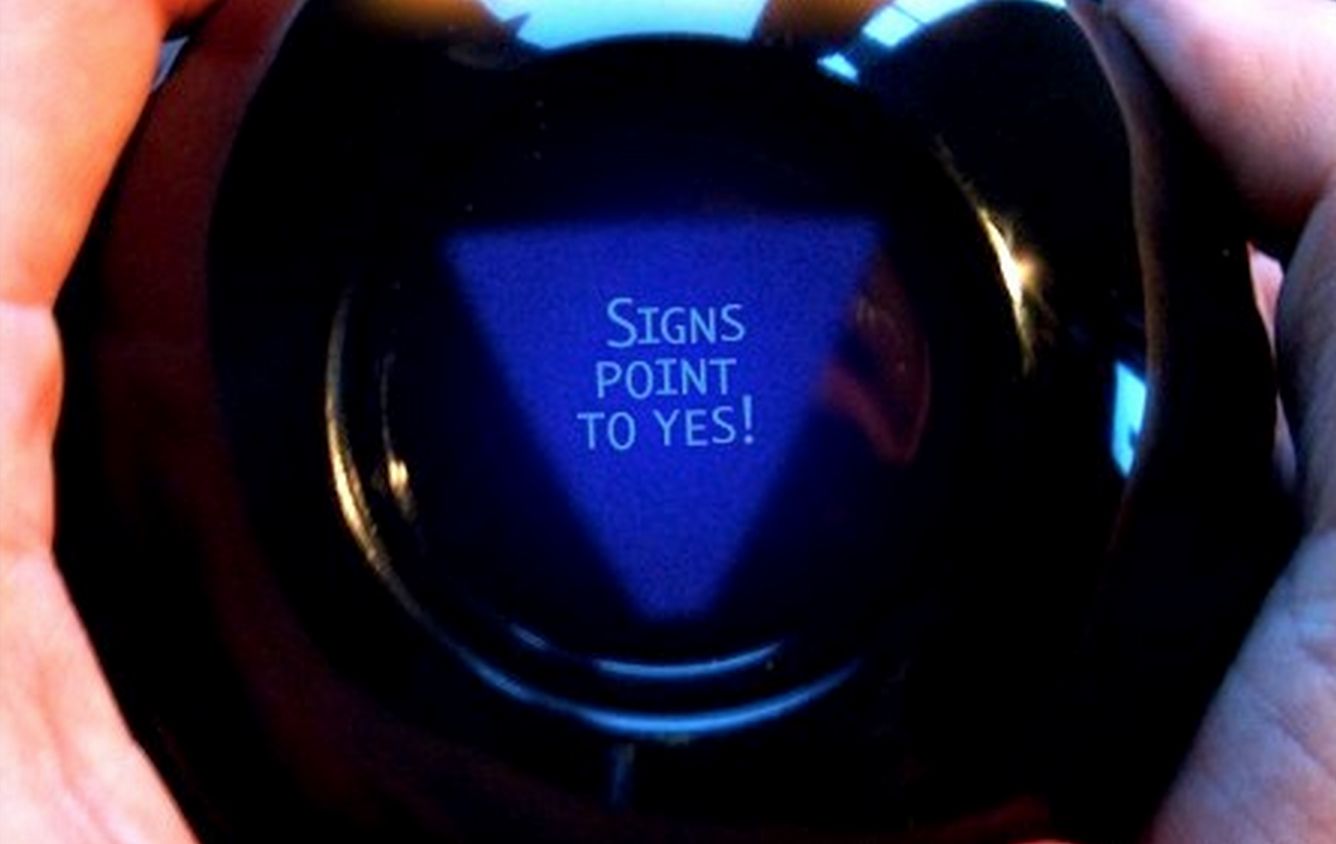 We probably could've just used a Magic 8-ball and gotten better results!
I can only imagine that there will have to be some big changes to these models – they were completely useless, and wasted ENORMOUS resources. When they said it was going to hit the east coast of Florida, MILLIONS of people evacuated. Then, when they said it was going to hit the Gulf coast, MILLIONS more attempted to evacuate – except now everyone is out of gas and the roads are already packed. It was a mess.
I hope we publicly get to learn what went so, so wrong, what they are doing to fix it, and what they are doing to not make this mistake again.
Bottom Line:
In short, I was really impressed at all of the ways that technology made something like a hurricane, a little better. It's amazing and helpful to get real-time, accurate information on:
The storm
Gas locations
Traffic situation and closed roads
So, if you want to be prepared (technologically, at least) for the next regional disaster, here's what I'd recommend:
For your local law enforcement (Sheriff's office or police department):
Find and follow their twitter feed
Follow them on Facebook
For your local government:
Find and follow the EOC or OEM twitter feed
Follow them on Facebook
Download the apps for each of your local TV stations, put them together in a "group" called "Local news" on your phone desktop
Download Google Maps and download the "offline maps" in the settings, for your local area. This way, you can still use the app if the internet is down
Download Waze as a backup to Google Maps.
Download Zello for low-battery, high-quality communication with a team or group
(optional) Download TruckerPath if you are in a truck or RV and bugging out
(optional) Download RepeaterBook if you are a ham operator looking for the repeaters available in an area, or for bugging out.