I telework full-time, plus I'm a mild-mannered software developer in my free-time, plus I am a regular computer user in my free-time as well. This means that I'm at my desk quite a bit of the day.
Considering I spend so much time here, I am a big believer of spending some money (investing) in some workstation comforts such as:
A high quality chair. I mean like a Herman-Miller Aeron, for example. If you buy $200 chairs at Staples, you'll be replacing them every few years. Herman-Miller chairs come with a complete 12-year warrantee and they will likely last much, much longer than that. In my case, at year NINE of my warrantee, part of the frame cracked. They sent me out everything I needed to repair it and offered to have a local shop do it. I've had my Aeron about 13 years now and it's just about as good as the day I got it. This is a fantastic investment!
A good quality keyboard – I still love my Das Keyboard, but there are many mechanical keyboard manufacturers now. That and a good mouse – I use a wired, 5-button Microsoft Mouse because I got sick of changing batteries every few weeks.
A good computer and monitor setup – whatever makes sense for you. For some, it's a triple-head monitor stand with 3 x 24" monitors for example!
However, it's time to add another item to this list. Last week I started getting annoyed with how my chair was cracking my chair mat. I had one of those typical chair mats from Staples. You put it down on top of the carpet to protect the carpet from your rolling chair wheels – and it gives you a smoother surface to roll too. Well, this is my second one in just a few years.
So, I decided to look into this. A few months ago I first learned about glass chair mats. This seems like a bad idea at first, but it's not regular glass. They use a super high-impact glass and plastic and they are supposed to be indestructible. Well, I decided to keep looking. I found something in-between: a higher quality plastic mat. Regardless of what you want, this one vendor has it all:
Not only did they have very reasonable prices, they had tons of options. In my case, I was drawn to this rectangle-style in black, with a lifetime warrantee and free shipping. If it is what it claims to be, what more could you want?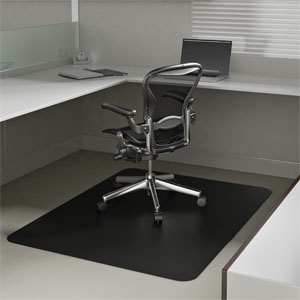 Well, I ordered it Thursday 3/13 and it arrived today, Tuesday 3/18 (3 business day turnaround!). It was shipped in a thin, flat box with heavily reinforced edges. Inside the box was the mat, with addition packing material. It arrived without a blemish!
The first thing I noticed was this was a LOT heavier (in weight and thickness) than a mat that you get at Office Depot. I put it down, my chair rolls on it, and it feels significantly sturdier than the old one.
I am in no way affiliated with this company, but I am very pleased with: how easy the website was, the prices, the warrantee, the free shipping, and the quality of the product. If you need a floor mat – check them out.